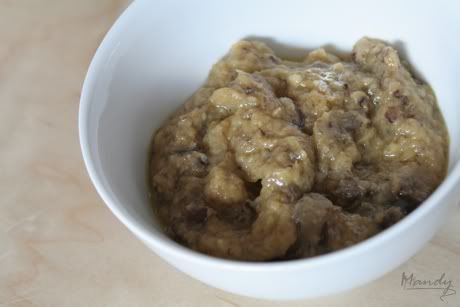 Whether you call it an eggplant, brinjal or aubergine, this meze is really tasty!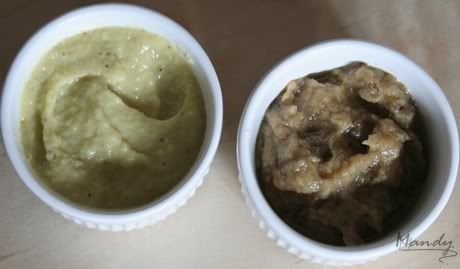 This dip can be made smooth in the blender or left a little bit chunky, I personally prefer having it slightly chunky and I even include the skin to give it an interesting look and texture. The suggested and best way of cooking the brinjal is over hot coals, the brinjal picks up a fantastic smokiness that really enhances the flavour. It can also be cooked in the oven, in fact, allowing it to charr slightly under the grill is good.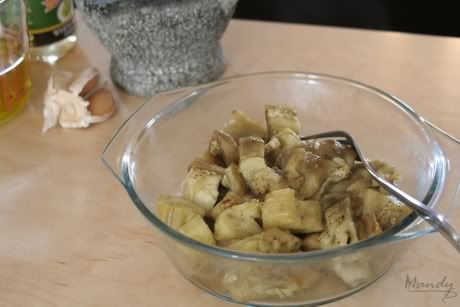 Greek dips are quite versatile and I always suggest you add the seasoning according to your prefered taste. Melitzanosalata is quite fruity and I prefer it with just a hint of garlic so that it doesn't overpower the taste, I also prefer to use lemon juice instead of white wine vinegar in this recipe. Other variations include adding onion, breadcrumbs, parsley and/or plain yoghurt.
This is a fantastic dip and if you haven't tried it yet, I recommend you add it to your list of foods to try, and as always the rule with meze, they're best enjoyed with friends!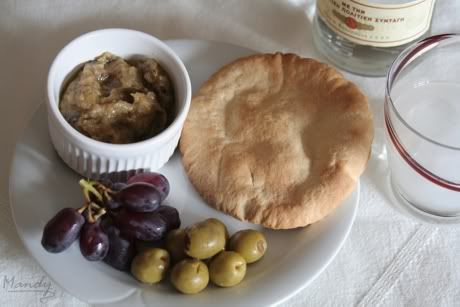 Ingredients:
1 Large Round Eggplant
1/3 Cup Extra Virgin Olive Oil
2 Tbsp Lemon Juice
1 Large Garlic Clove, crushed
Salt
Method:
Pierce eggplant a couple times with a fork
Bake whole eggplant on oven tray at 200°C for about 1 hour, charr slightly under the grill
or
Over hot coals or open flame until the eggplant is soft and skin is blackened
Remove from heat and allow to cool and drip on a cooling rack over a plate
Tip: I like to cut a slit down the eggplant, open the eggplant slightly, place slit side down on the rack, then press out excess liquid so that the dip isn't too wet
Remove the stem from the brinjal and cut the brinjal into chunks
Mash brinjal with a fork
or
Pulse in a blender (but just enough to break it into small pieces but maintain some texture)
Transfer brinjal to a bowl
Slowly pour olive oil and lemon juice into the bowl, alternating between them, while stirring to combine until well mixed
Stir in garlic and add salt to taste
Cover and chill in the fridge
Adapted from the favourite handwritten recipes in my mom's old file :)
Other Tips:
When cooking the brinjal in an oven, another way to charr the brinjal after cooking instead of under the grill/broiler, is to use a kitchen torch
Brinjal can be very bitter and because the brinjal is cooked whole and isn't sweated with salt to remove the bitterness first, you can stir in 1-2 tsp sugar to remove the bitter taste after seasoning with salt
Like with Skorthalia, I find this dip is best served a few hours or day after making it so that the flavours can develop
Serve chilled or at room temperature