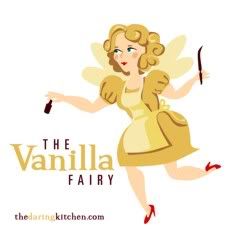 The July Daring Bakers' challenge was hosted by Nicole at Sweet Tooth. She chose Chocolate Covered Marshmallow Cookies and Milan Cookies from pastry chef Gale Gand of the Food Network.
I've never had a milano cookie so I wasn't too sure how these were supposed to turn out, but however the original tastes, these were fantastic :)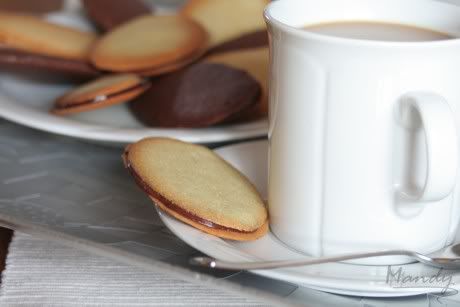 The cookie was so crisp, almost like a wafer, and the ganache was perfect inbetween. These are definitely more of an adult cookie perfect for coffee or tea with the girls!
Making them was quite a learning experience! The batter is so runny and spreads even more once baking, so it took a couple tries but I finally got it right (you'll see some round cookies instead of long ones in some of the pics ;) ) I also didn't have the correct tip size to pipe the batter, so I ended up spooning it onto the baking sheet with a teaspoon, and then shaped them nicely so that they came out more or less the same shape and size. The nice thing about using a teaspoon was that the same amount of batter was spooned onto the sheet for each cookie.


Because I am who I am, I thought I'd make 2 other variations from the recipe given. I'm not that fond of citrus flavoured cakes or cookies so wanted something I'd like as well. The end results were really good!
1) I made the recipe as it was given, using lemon & orange extract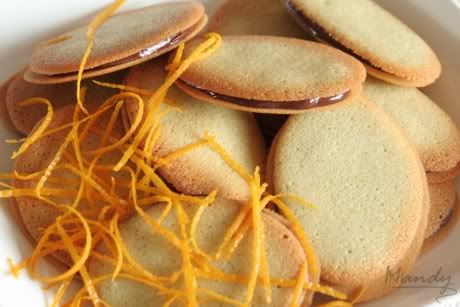 2) A chocolate cookie with mint chocolate ganache filling, yum!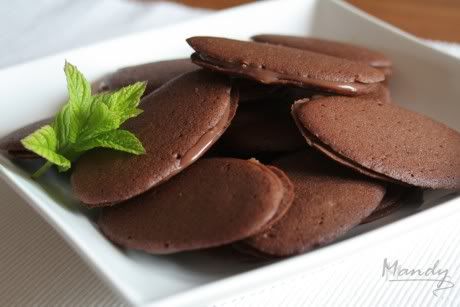 3) (My favourite of the lot) Almond cookie & white chocolate ganache filling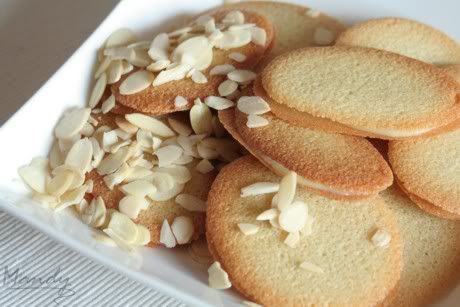 The only thing I have to say about this recipe is that unfortunately, I suspect because of the humidity here, the cookies softened up after a few hours. One of the other DBers suggested baking the cookies twice, sort of like biscotti, to help keep the biscuit crisp. I plan on adding this recipe to my favourites list so will try that next time :)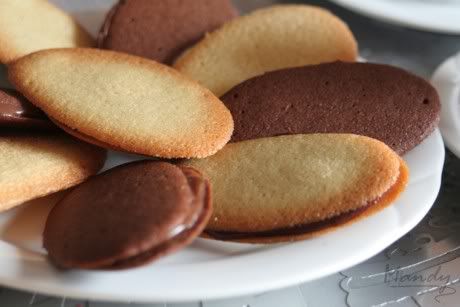 Enjoy!
Milan Cookies
Recipe courtesy Gale Gand, from Food Network website
Prep Time: 20 min
Inactive Prep Time: 0 min
Cook Time: 1 hr 0 min
Serves: about 3 dozen cookies
Ingredients:
12 Tbsp (170g/ 6 oz) Unsalted Butter, softened
2 1/2 cups (312.5 g/ 11.02 oz) Powdered Sugar (confectioners sugar)
7/8 cup Egg Whites (from about 6 eggs)
2 Tbsp Vanilla Extract
2 Tbsp Lemon Extract
1 1/2 cups (187.5g/ 6.61 oz) All Purpose Flour
Cookie filling:
1/2 cup heavy cream
8oz semisweet chocolate, chopped
1 orange, zested
Method
In a mixer with paddle attachment cream the butter and the sugar.
Add the egg whites gradually and then mix in the vanilla and lemon extracts.
Add the flour and mix until just well mixed.
With a small (1/4-inch) plain tip, pipe 1-inch sections of batter onto a parchment-lined sheet pan, spacing them 2 inches apart as they spread.
Tip: You can use a teaspoon to spoon batter onto the baking sheet
Bake in a preheated 350°F oven

(180°C/160°C Fan assisted)

for 10 minutes or until light golden brown around the edges. Let cool on the pan.
While waiting for the cookies to cool, in a small saucepan over medium flame, scald cream.
Pour hot cream over chocolate in a bowl, whisk to melt chocolate, add zest and blend well.
Set aside to cool (the mixture will thicken as it cools).
Spread a thin amount of the filling onto the flat side of a cookie while the filling is still soft and press the flat side of a second cookie on top.
Repeat with the remainder of the cookies.
Other Tips
To do chocolate cookies, add cocoa powder to the batter
For any other flavours, add your extract or spice of choice in place of the lemon extract
tagged
Daring Baker,
Ganache,
Milan Cookie
in
Daring Baker