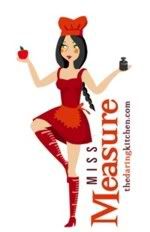 The July Daring Bakers' challenge was hosted by Nicole at Sweet Tooth. She chose Chocolate Covered Marshmallow Cookies and Milan Cookies from pastry chef Gale Gand of the Food Network.
To me, marshmallow has always been the sort of thing that I could never imagine making myself, I'd convinced myself that it's strictly for the sweet factories to provide. When I first came across a marshmallow recipe, I was intrigued, but never did anything about it.
One of the reasons I've joined the Daring Bakers is that it will challenge me to try new things, so when I found out what my first challenge would be, I was very excited, I would finally be making my own marshmallow!
I had to use a slight substitution in the recipe because I couldn't get my paws on light corn syrup, but with the advice of other very helpful DBers it wasn't a problem. I was very pleased with my results! I couldn't believe that the marshmallow I made tasted exactly (if not better ;) ) than a store bought variety :D

A lot of the feedback from other DBers was that the recipe provided made a laaarge amount of cookies, so I took that into consideration and decided on making 3 different types of mallows. 1) The original recipe (as required) 2) Strawberry 3) Chocolate mallow with coffee choc glaze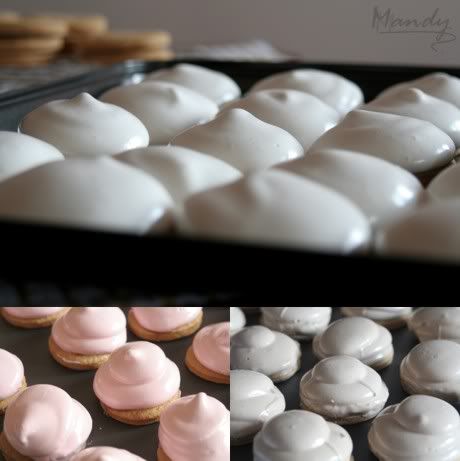 Overall, they were all a success, but I did have different results with all three.

I started with the original ones, I realised after that I hadn't beat the marshmallow mixture until it was stiff enough so I didn't get nice high blobs of mallow on the cookie. No worries, they still tasted fantastic!

The strawberry ones were the best marshmallow result of the three as I beat the mixture until properly stiff so they held their shape beautifully. The downfall with this variation was that the strawberry dessert topping syrup I used to flavour the mallow didn't actually leave a flavour (I'd used up half the bottle!) So next time I'll do what other DBers did and make my own strawberry puree. They were a pretty pink though!

The choc-coffee ones were my favourite as far as flavour. The interesting issue I had with these was that no amount of beating would stiffen them up at all. Ho hum! I did make a plan though, I piped a small amount onto each cookie then popped them into the fridge for 5mins to set. Then I piped another blob ontop, set for 5mins, then piped the last blob. That way I got a nice amount of marshamallow on each cookie. I glazed with my favourite coffee chocolate which went so well with the chocolate marshamallow. The only other thing I would change would be to leave the cinnamon out of the cookie dough, it was slightly too intrusive for the other flavours.
One thing I messed up with was the amount of chocolate I had available (I was convinced I had more in the cupboard ;) ) I found the recipes amount was enough for 26 mallows so I covered the remaining strawberry mallows with hundreds & thousands, I think they look really cute and they were just as tasty! The marshmallow is very sticky so it was easy enough just to roll the mallow in a bowl of sprinkles.
And so, here you go, the recipe to make your own mallows (my notes included :) )
Mallows (Chocolate Covered Marshmallow Cookies)
Recipe courtesy Gale Gand, from Food Network website
Prep Time: 10 min
Inactive Prep Time: 5 min
Cook Time: 10 min
Serves: about 2 dozen cookies
Ingredients
3 cups (375g/13.23oz) All Purpose Flour
1/2 cup (112.5g/3.97oz) White Sugar
1/2 tsp Salt
3/4 tsp Baking Powder
3/8 tsp Baking Soda
1/2 tsp Ground Cinnamon
12 Tbsp (170g/ 6 oz) Unsalted Butter
3 Eggs, whisked together
Homemade marshmallows, recipe follows
Chocolate glaze, recipe follows
Method
In a mixer with the paddle attachment, blend the dry ingredients.
On low speed, add the butter and mix until sandy.
Add the eggs and mix until combine.
Form the dough into a disk, wrap with clingfilm or parchment and refrigerate at least 1 hour and up to 3 days.
When ready to bake, grease a cookie sheet or line it with parchment paper or a silicon mat.
Preheat the oven to 375° F

(175°C/155°C Fan assisted)

Roll out the dough to 1/8-inch thickness, on a lightly floured surface. Use a 1 to 1 1/2 inches cookie cutter to cut out small rounds of dough.
Tip: My dough was very sticky even after ice cold so I kneaded in a tiny amount of extra flour and made sure to generously flour the counter & rolling pin. Also, I rolled mine thinner but used a 2" cookie cutter as I wanted something more like the Cadbury's Sweetie Pie back home. I got 70 cookies
Transfer to the prepared pan and bake for 10 minutes or until light golden brown. Let cool to room temperature.
Pipe a "kiss" of marshmallow onto each cookie. Let set at room temperature for 2 hours.
Line a cookie sheet with parchment or silicon mat.
One at a time, gently drop the marshmallow-topped cookies into the hot chocolate glaze.
Lift out with a fork and let excess chocolate drip back into the bowl.
Tip: I thought I'd be clever and let some drip off on a cooling rack. Bad idea ;) The chocolate on the bottom stuck to the rack ;)
Place on the prepared pan and let set at room temperature until the coating is firm, about 1 to 2 hours.
Note: if you don't want to make your own marshmallows, you can cut a large marshmallow in half and place on the cookie base. Heat in a preheated 350-degree oven to slump the marshmallow slightly, it will expand and brown a little. Let cool, then proceed with the chocolate dipping.
Homemade marshmallows:
1/4 cup Water
1/4 cup Light Corn Syrup
3/4 cup (168.76 g/5.95oz) Sugar
1 Tbsp Powdered Gelatin
2 Tbsp Cold Water
2 Egg Whites, room temperature
1/4 tsp Pure Vanilla Extract
In a saucepan, combine the

(¼ cup)

water, corn syrup, and sugar, bring to a boil until "soft-ball" stage, or 235 degrees on a candy thermometer.
Sprinkle the gelatin over the

(2 Tbsp)

cold water and let dissolve.
Remove the syrup from the heat, add the gelatin, and mix.
Whip the whites until soft peaks form and pour the syrup into the whites.
Add the vanilla and continue whipping until stiff.
Tip: It took about 20-30mins of beating with my handmixer on max speed
Transfer to a pastry bag.
Chocolate glaze:

12oz Semisweet Chocolate
2oz Cocoa Butter or Vegetable Oil
Melt the 2 ingredients together in the top of a double boiler or a bowl set over barely simmering water.
Tip: I don't eat dark chocolate so I used milk chocolate instead. Also, a lot of the feedback from other DBers who used vegetable oil was that their glaze never set or took aaaages to set, so if you can't get cocoa butter, you can use vegetable fat. I used cocoa butter and the chocolate was wonderfully smooth in the mouth.
Other Tips
One of the other DBers did a little research and found out that using half corn syrup & half glucose syrup made a marshmallow that wasn't as sweet and had a lovely texture so I gave that a try and can absolutely agree
Like I said, I ended up with 70 cookies. 10 of which I ate ;) then 20 for each flavour
I found that the amount of glaze given covered 26 (large) mallows
To flavour your mallows, add a flavoured syrup or puree to the mixture, or replace the plain gelatin with a flavoured jelly
To make the mallows a little more interesting, add a blob of jam, caramel, peanut butter or whatever you fancy onto the top of the cookie, then pipe the mallow ontop
Have fun dipping or sprinkling crushed nuts, coconut or sprinkles onto the chocolate glaze
I used chocolate wrapping foil to wrap each mallow, they were bright and fun and also clean and neat to give out to friends :)
tagged
Chocolate,
Daring Baker,
Mallows,
Marshmallow
in
Daring Baker