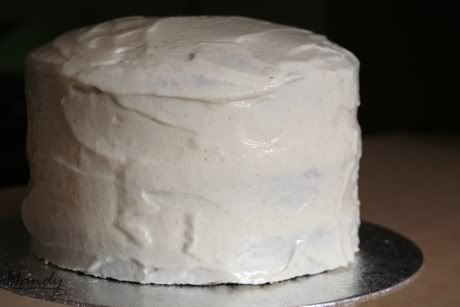 Out of all the wonderful flavours and variations of cake, Carrot Cake is my absolute favourite!
There's just something about it. It's a very unique flavour and you almost feel better about eating a slice because it includes veggies and the frosting isn't as sugar packed. I know it doesn't make a difference, it's still cake, but who cares! I love using vanilla seeds in the icing, the little flecks not only add great flavour but they give the icing an interesting look. Also, anything with pecan nuts is a temptation to me!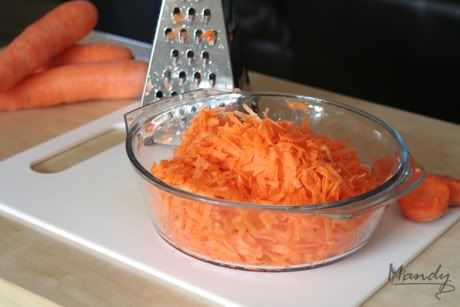 My mom would sometimes take me to our favourite coffee place after school as a treat, they had the best carrot cake and it would be the only cake we'd order time after time. It was 3 layers of carrot cake heaven, soft, moist, not too sweet, the perfect cream cheese frosting. 3 layers are especially good because you get the extra layer of icing!

My mom eventually got a recipe from somewhere and I was normally the one who baked it, I didn't mind :) Before today I hadn't made it since high school but I've always boasted to my hubby that I make an awesome carrot cake.
In putting plans together for his birthday, I told him he could choose any cake he likes and I'd bake it for him, so he finally decided to challenge my claim and asked for carrot cake :D My husband's a big kid so the bright coloured icing seemed like a good idea ;)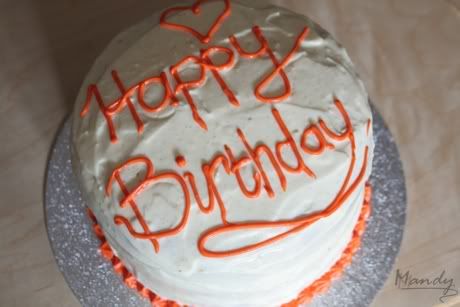 I dug through my file and found our old recipe. The recipe includes a cup of raisins but I've never included them, I'm not a fan of raisins in carrot cake, my husband's the same, but feel free to add them.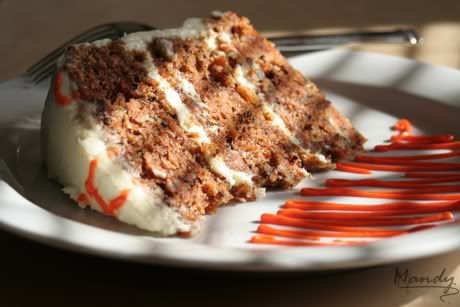 I hope you enjoy it too!
Ingredients:
2⅓ cups Flour
1½ cups Brown Sugar
2 tsp Baking Powder
2 tsp Bicarb of Soda
225g Pecans, Chopped
3½ cups Carrot, Grated (about 3 large carrots)
1 cup Sunflower/Canola Oil
4 Eggs
2 tsp Cinnamon
½ tsp Nutmeg
1 tsp Salt
Method:
Preheat oven to 180°C (160°C Fan Assisted).

Line the bottom of three 8-inch cake pans with wax paper and lightly grease.

Beat eggs and sugar together, add oil and beat until well mixed.

Sift flour, baking powder, bicard of soda, salt, cinnamon and nutmeg into sugar, egg and oil mixture. Beat until combined, scraping the bowl as needed.

Stir in carrots and chopped pecans (and 1 cup raisins, if using).

Divide batter equally between cake tins.

Bake until toothpick inserted into center comes out clean, about 35-40 minutes.

Cool pans on racks for about 15 minutes. Remove cake from pans and cool completely before icing.

Use ¾ cup of frosting between the layers and cover the cake with the remainder of the frosting. Decorate with pecans or fondant carrots.
Yields up to 12 slices
Adapted from a handwritten recipe in the ol' family favourites file :)
Can be made a day ahead before frosting. Once cool, wrap each layer tightly in plastic wrap and store at room temperature.
tagged
Carrot Cake,
Cream Cheese Frosting
in
Baked,
Sweet