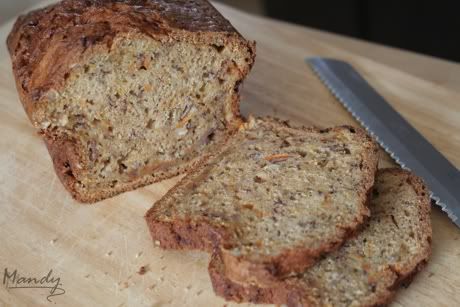 Also known as the I-had-some-old-bananas-&-carrots-but-couldn't-just-throw-them-out loaf :D
This all started a couple weeks ago, I had some old bananas and I normally make banana loaf to use them up but then I spotted the carrots I had leftover after making carrot cake for my husbands birthday and decided they'd probably make a great combination. Banana loaf is common, as is carrot loaf, but I've never seen the combination sold in any store. I certainly wasn't wrong in my thinking, after some googling, I found it was definitely a popular combination.
As I said, this started a couple weeks ago, so why am I only posting this now? For a bit of fun I decided I wanted to try figure out how to make this myself instead of using a recipe from someone else's site and so I took the recipe my mom used for banana loaf and played around with it. I've never adjusted a recipe this drastically so after a few tries with some temperature and time adjustments, not enough carrot or too much etc, I think I got it right.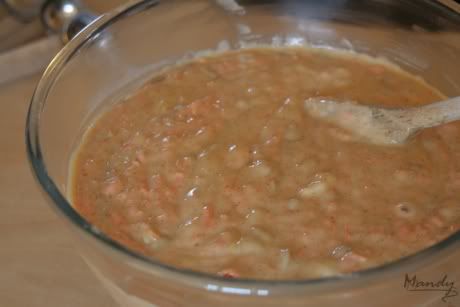 Enjoy warm with butter melting in, plain, or even made in a bundt tin and served with a dollop of whipped cream. I think the flavours are better the day after baking and it keeps for a good few days if wrapped in tinfoil.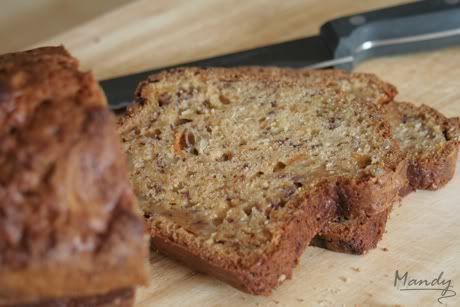 Ingredients:
2 cups Flour
1 cup Brown Sugar
½ cup Sunflower/Canola Oil
½ cup Milk
2 Eggs
4 Ripe Bananas, mashed
3 Large Carrots, grated & drained
1 tsp Cinnamon
½ tsp Baking Powder
¾ tsp Bicarb of Soda
Pinch of Salt
½ cup Sunflower Seeds or chopped Pecan nuts, optional
Method:
Preheat oven to 180°C (160° C Fan assisted).
Mix sugar and eggs together, add oil and beat till well mixed.
Sift in flour, baking powder, cinnamon & salt and mix.
Dissolve Bicarb of Soda in the milk and add to the mixture.
Stir in mashed bananas, grated carrots and if using, seeds or nuts.
Pour into a loaf tin lined with wax paper and bake until a skewer inserted comes out clean, about 1hr 15min to 1hr 30min.
Allow to cool for about 10mins before removing from tin.
Inspired by my favourite banana bread recipe
tagged
Banana Carrot Loaf
in
Baked,
Sweet