freshly baked banana & pecan bread
I don't know who made the first banana loaf but I bet you it was a mom! (And a frugal one at that ;) )
batter ready for baking
baked with a delicious crunchy crust
All moms seem to have this recipe lurking around and it's always brought out when there are old bananas sitting sadly, ready to be thrown out. Don't get me wrong, I'm not knocking banana bread, I absolutely love it!
My mom made it too & I'd rather have a slice of delicious warm and moist banana bread with butter melting in, than throw out those dismal bananas, because then I'd be missing out on this timeless treat.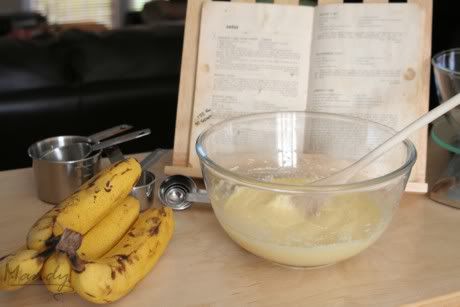 This is the recipe my mom used from her overly used, missing the cover, tattered and well loved recipe book she got in her 20's, and I've made no changes because a classic like this needs to be left alone! (With the exception of adding a handful of chopped pecans or other nuts ;) )
It's really simple to make so there's no excuse not to make a loaf, put those sad bananas to use!
Ingredients:
2 cups Plain Flour
1 cup Brown Sugar
115g Unsalted Butter / Margarine
½ cup Milk
2 Eggs
4 Ripe Bananas, mashed
½ tsp Baking Powder
¾ tsp Bicarb of Soda
Pinch of Salt
1 tsp Vanilla Extract
½ cup Sunflower Seeds / chopped Pecan nuts / Almond Flakes, optional
Method:
Preheat oven to 180°C (160°C Fan assisted).
Cream sugar & butter together.
Add eggs one at a time beating thoroughly after each.
Stir in mashed banana & (optional) nuts or seeds with a wooden spoon.
Sift in flour, baking powder & salt, mix.
Dissolve Bicarb of Soda in the milk, add to the mixture and mix until combined.
Pour into a loaf tin lined with wax paper and bake until a skewer inserted comes out clean, about 1hr 15min to 1hr 30min.
Allow to cool for about 10mins before removing from tin.
Adapted from a book that unfortunately doesn't have a cover anymore (and so I can't provide the name ;) ) but is a collection of recipes sent in by anyone happy to share
tagged
Banana Bread,
banana,
pecan
in
Sweet,
baked