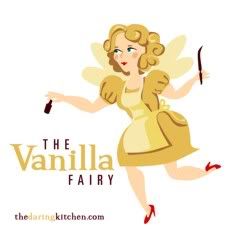 The August 2009 Daring Bakers' challenge was hosted by Angela of A Spoonful of Sugar and Lorraine of Not Quite Nigella. They chose the spectacular Dobos Torte based on a recipe from Rick Rodgers' cookbook Kaffeehaus: Exquisite Desserts from the Classic Caffés of Vienna, Budapest, and Prague.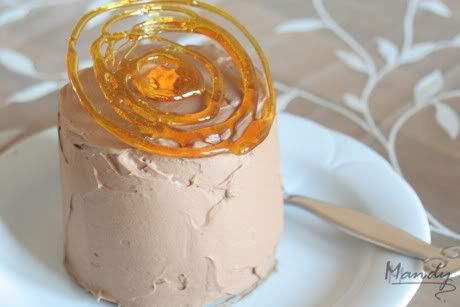 I make a torte which I absolutely love, both the process and the end result, so when this months' challenge was announced, I was really excited about it. From my experience with the cinnamon chocolate torte recipe I have, I knew this would be quite involved and time consuming, but I absolutely love baking cakes, it's my favourite thing to bake, and I'm quite happy spending a whole day in the kitchen to get one done.
I was particularly looking forward to starting on this challenge as there were two parts to it that would be new to me, and then once I decided on the flavours I wanted, a third new thing would be learnt. That's what the Daring Bakers is all about, daring to try new things! So, prepare for a rather loooong post! :)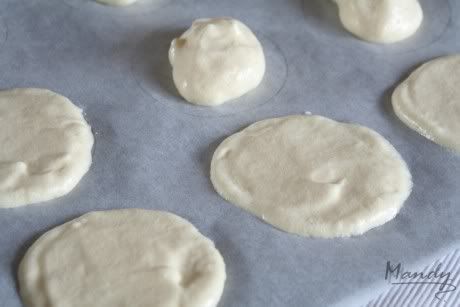 So basically, the Dobos Torte is a cake made up of very thin, airy sponge layers, with a creamy buttercream frosting going between the sponge layers and then over the whole cake. The signature look of the torte is the caramel covered sponge "blades" that are fanned out on top of the cake. For this challenge, making the buttercream and doing the caramel was mandatory, but the choice of flavourings as well as shape was all up to us :)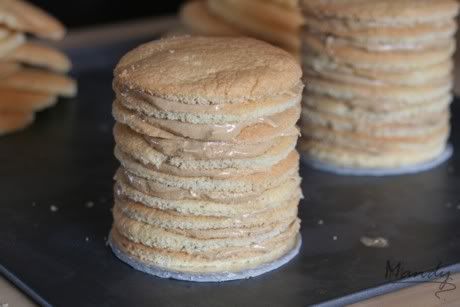 I thought it would be nice to make single portion mini tortes and because of that, I could also try different flavours. Ok, well, that was the idea, lots of different flavours... I settled on trying two, lol! Although, now that I've done the challenge, I wish I'd tried a third one as this torte really would lend itself to it.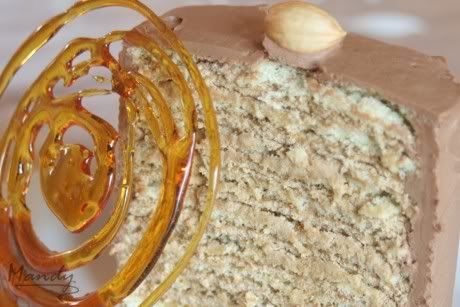 Flavour no. 1: The given sponge recipe, a coffee buttercream filling inbetween the sponge, the whole torte frosted with chocolate buttercream and the caramel on top.

Flavour no. 2: The given sponge recipe, the sponge layers brushed with Frangelico, a hazelnut praline buttercream filling, covered in chocolate buttercream and the caramel top.
The flavour I wish I'd tried is tiramisu! The sponge tastes exactly like boudoir or lady finger biscuits used in tiramisu, and so this would be perfect with the sponge brushed with strong coffee & liqueur, the marscapone as the filling between the sponge, then topped with a dollop of whipped cream and dusted in cocoa. Mmmmm! I'm definitely going to try this.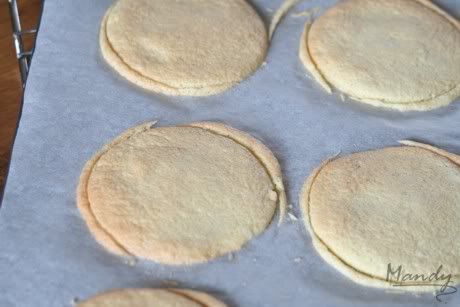 I mentioned that I learnt how to make 3 new things. The first was the caramel. I've never tried it before! Caramel can be made by melting dry sugar or by melting and cooking sugar with water. The recipe we were given was the water/sugar variety, as well as lemon juice. After reading other DBers comments about the lemon being far too strong in the caramel topping, I decided I'd leave it out, I didn't think it would go too well with my flavour combos.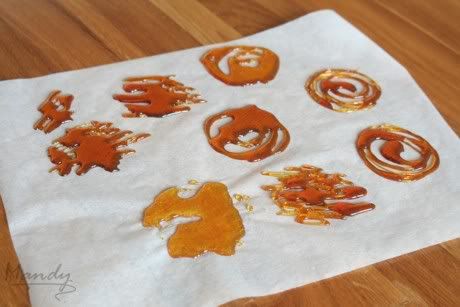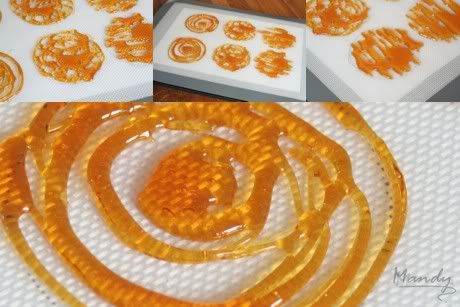 I also decided to not go with the signature look of the fanned blades but wanted to try something a little more intricate. After some test runs with the caramel, I found it was actually pretty easy to make lovely shapes and patterns. I found that letting the caramel cool a little, making it thicker, was the best way of making these jewels as it gave me more control over the flow. I drew a few circles on a sheet of paper using the pastry cutter I used to trim the sponge, then put the paper under the silicon mat, the black marker showed through enough so that I knew exactly how big to make each decoration. I'll admit, I'm pretty proud of the outcome!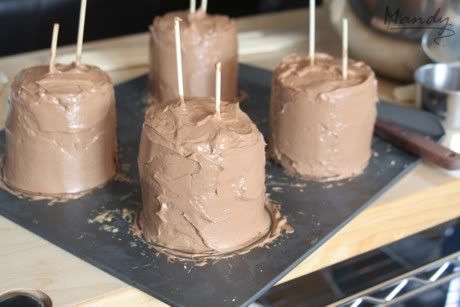 The second thing I learnt, and I'm actually a little embarassed to admit this, is the American Buttercream. Yes. I'm a n00b. I can't believe that after so many years of baking, I still hadn't come across the other buttercreams out there! As far as I knew, buttercream frosting is butter, confectioners sugar, a flavouring and a little milk or cream. I've come to learn that that's referred to as the Simple Buttercream of the buttercream family. Here's what else I learnt.
There is the Swiss Meringue Buttercream, which is egg whites cooked with sugar over hot water, then beaten until stiff and glossy, then once cool, butter is beaten in.
Next is the Italian Meringue Buttercream, it's similar to the Swiss one, but the process is a little different, sugar and water is boiled into a syrup until soft ball stage then poured over beaten egg whites, as it cools, butter is beaten in. I believe this is the most resilient and handles heat really well.
French Buttercream uses egg yolks only and is made by beating soft ball stage syrup into egg yolks, then beaten and softenend butter is whipped in.
There are some others, but you can find out about them at Wikipedia. The buttercream we used for this recipe is an American Buttercream. Whole eggs cooked with sugar over hot water, left to cool, then butter whipped in. The only thing I found with this buttercream was the it tended to melt while working with it. I had to frost in layers and refrigerate inbetween. It was absolutely delicious though! I was pretty nervous when I smelled the cooling egg mixture, wasn't like custard at all, smelled completely of egg! But once the butter was beaten in, it was fantastic. It tastes more like a sweetened and flavoured whipped cream or mousse. I prefer it to the simple buttercream, it's far less sweet and doesn't crust over when in the fridge. Now I really want to try out the other varieties as I think I've found a new favourite frosting!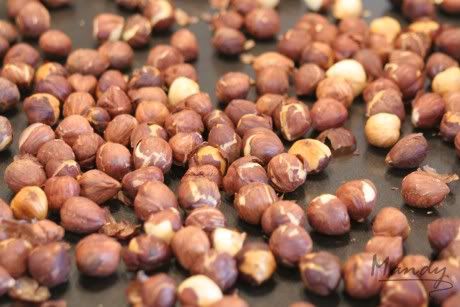 The last thing I learnt how to make was praline paste. Unfortunately I now need a new blender. Lol. It was actually pretty simple to make and coincidentally involved making caramel. I ended up making 2 batches though, I wasn't keeping an eye on the hazelnuts while they were roasting and didn't realise I'd left them too long, so when I tried my first little bit of paste, it tasted rather... burnt :p No worries, I kept a closer eye on the second batch of hazelnuts as they were in the oven and they came out lovely. While I was grinding the praline with my little 400w Braun hand blender, I noticed it getting quite hot! I let it rest a couple times and only did small batches, but in the end once there was smoke coming out of it, I realised there wasn't much more I could do. So on that note, if you're going to make your own praline paste, use a strong food processor! What a stupid mistake, but we learn! After all that, the paste still wasn't smooth enough so I added chopped hazelnuts to the praline buttercream and made a crunchy and very tasty filling for the torte.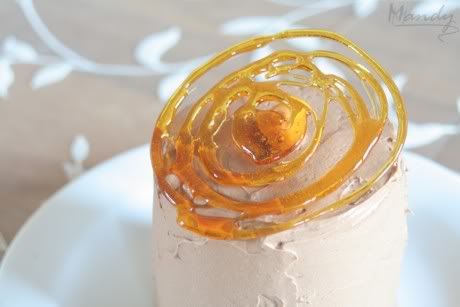 The tortes were really delicious. I could probably have made them a little smaller because the frosting is quite rich, but they were really good. I think the coffee one was my favourite but my husband couldn't choose between one or the other. I left one of each flavour torte in our friend's fridge as a surprise when they got back from holiday and I've had glowing comments about the taste, so overall, a success and I'll be trying this recipe again, although this time with an Italian Meringue Buttercream or as a tiramisu!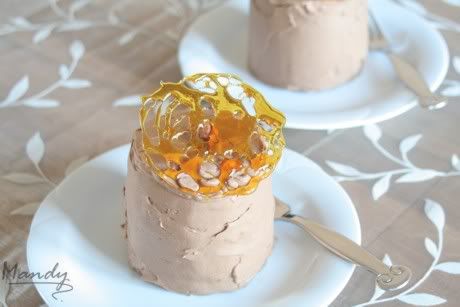 So, the long rambling is finally at its end and here is the recipe with the changes and flavours I used, but for the original challenge recipe, you can have a look at it here :)
Ingredients
This sponge recipe makes enough for 8 mini tortes, each with 8 sponge layers
Sponge Cake Layers
6 Eggs, separated, at room temperature
1 1/3 cups (162g) Confectioner's Sugar, divided
1tsp (5ml) Vanilla Extract
1 cup plus 2 Tbsp (112g) Sifted Cake Flour (SUBSTITUTE 95g plain flour + 17g cornflour sifted together)
Pinch of Salt
Buttercream
4 Eggs, at room temperature
1 cup (200g) Caster Sugar
2 sticks plus 2 Tbsp (250g) Unsalted Butter, at room temperature.
2oz (55g) 70% Dark Chocolate, melted
1-2tsp Instant coffee, dissolved in few drop of warm water
2oz (55g) Hazelnut Praline Paste
100g Chopped and Roasted Hazelnuts
Hazelnut Praline Paste
250g White Sugar
250g Hazelnuts, roasted and peeled
50ml Water
Caramel topping
1 cup (200g) Caster Sugar
100ml Water
Other
Hazelnuts, roasted and peeled, 1 for each torte
Frangelico
Method
Praline
Roast hazelnuts for about 8-10mins at 400°F/200°C (180°C Fan Assisted)
Once cool, peel off the skins
Put the sugar and water into a pan and heat over medium heat without stirring
Brush down any crystals on the side with a brush dipped in water
Once the sugar has dissolved add the hazelnuts and stir to coat all the nuts
Cook until the syrup becomes a light caramel, about 160°C/320°F
Tip: Keep watching! It goes from syrup to caramel very quickly and from there can burn easily, the darker the caramel, the more bitter
Pour the mixture onto a baking tray lined with parchment paper and allow to cool completely, about an hour
Break the praline into pieces and grind it in a food processor until smooth and it forms a wet paste
Tip: Use a strong food processor! It also helps to do it in small batches
Sponge Layers
Position the racks in the top and centre thirds of the oven and heat to 400ºF/200°C (180°C Fan Assisted)
Cut 8 pieces of parchment paper to fit the baking sheets. Using a 3" pastry cutter as a template and a dark pencil or a pen, trace 8 circles on each of the papers, and turn them over (the circle should be visible from the other side, so that the graphite or ink doesn't touch the cake batter)
Beat the egg yolks, 2/3 cup (81g) of the confectioner's sugar and the vanilla in a medium bowl with a mixer on high speed until the mixture is thick, pale yellow and forms a thick ribbon when the beaters are lifted a few inches above the batter, about 3 minutes
In another bowl, using clean beaters, beat the egg whites until soft peaks form. Gradually beat in the remaining 2/3 cup (81g) of confectioner's sugar until the whites form stiff, shiny peaks. Using a large rubber spatula, stir about ¼ of the beaten whites into the egg yolk mixture, then fold in the remainder, leaving a few wisps of white visible
Combine the flour and salt. Sift half the flour over the eggs, and fold in; repeat with the remaining flour
Line one of the baking sheets with a circle-marked paper. Using a small offset spatula, spread about 1Tbsp of the batter in an even layer, filling and going over the line of the traced circles on one baking sheet. Bake on the top rack for 5-6 minutes, until the cake springs back when pressed gently in the centre and the edges are lightly browned
Tip: I found that they were easier to peel off the parchment paper when they were baked a little longer and were slightly more dry, which is fine if you're going to soak or brush them with a liqueur or syrup
While this tray bakes, repeat the process on the other baking sheet, placing it on the centre rack. When the first tray is done, move the second sheet to the top rack
Allow to cool and carefully peel off the paper. I found using an egg lifter helped with some of the more stubborn ones
Rinse the baking sheet under cold running water to cool and dry it before lining with another parchment. Continue with the remaining papers and batter to make a total of 64 sponge rounds
Completely cool the layers. Using a 3" pastry cutter trim each cake layer into a neat round
Buttercream
I made 1 batch of plain buttercream and then divided and added flavours to save some time, but you can make each flavour individually from the start
Prepare a double-boiler: quarter-fill a large saucepan with water and bring it to a boil
Meanwhile, whisk the eggs with the sugar until pale and thickened, about five minutes. You can use a balloon whisk or electric hand mixer for this
Fit bowl over the boiling water in the saucepan (water should not touch bowl) and lower the heat to a brisk simmer
Cook the egg mixture, whisking constantly, for about 6 minutes until it thickens and reaches 160°F/70°C
Scrape the egg mixture into a medium bowl and leave to cool to room temperature. It should be quite thick and sticky in consistency
When cool, beat in the soft butter, a small piece (about 2 tablespoons/30g) at a time. You should end up with a thick, velvety buttercream
Tip: While in the process of adding the butter it might look completely curdled and lumpy, don't panic, just keep on beating and adding the rest of the butter and it will thicken up beautifully
Divide buttercream equally into 2 bowls, set one bowl aside
Melt chocolate and allow to cool slightly. Beat into one of the bowls of buttercream until thoroughly mixed
Tip: If the chocolate is still quite warm and melts the buttercream, chill for 10mins or so to firm it up and beat again if necessary
Divide the remaining buttercream equally into 2
Dissolve the instant coffee with just enough warm milk to dissolve (about ½tsp) and allow to cool
Beat into one of the remaining plain buttercreams
Beat the praline paste into the last remaining buttercream until thoroughly mixed
Optional: Stir in crushed hazelnuts into the praline buttercream until well combined
Chill buttercreams while you make the caramel topping
Caramel Topping
Using the 3" pastry cutter, draw 8 circles in thick marker on a peice of paper and place the paper underneath a silicon mat or parchment paper so that you can see the circles
Tip: You might have a breakage or two, so it's a good idea to make a few extra
Stir the sugar and water in a small saucepan. Bring to a boil over a medium heat without stirring
Once dissolved into a smooth syrup, turn the heat up to high and boil without stirring, swirling the pan by the handle occasionally and washing down any sugar crystals on the sides of the pan with a wet brush until the syrup has turned into an amber-coloured caramel, about 160°C/320°F
Tip: Don't let it leave your sight, it changes to caramel very quickly and becomes dark and bitter even faster
Remove from heat and allow to cool slightly so it thickens a bit
Using a teaspoon, drizzle or pour the caramel onto the parchment or silicon mat, making patterns within each of the circles
Allow to harden
Tip: I noticed that they became a bit sticky after a while but still remained crunchy, so to avoid lots of stickiness while handling them, make these when you're ready to decorate
Assembling
I assembled each mini torte on a 3" cardboard round to make it easier to tranfer to a plate or serving dish, but I found that if straight out the fridge while the buttercream is still quite firm, it's easy enough to use an egg lifter to transfer them without having the cardboard
Place a dab of buttercream on the middle of a 3" cardboard round and top with one cake layer
Spread the layer with 1 tsp of the coffee buttercream
Repeat with 7 more cake layers
Spread the chocolate buttercream on the sides and top of the cake
Tip: Do a crumb layer then refrigerate to make the buttercream firm before spreading on more layers, also, it helps if the cake layers are chilled
Tip: You'll notice in one of the pics above that I had wooden skewers sticking out of my tortes while frosting, this helps keep the layers from sliding around and ending up with a leaning torte. Remove skewers once you've spread the buttercream smoothly around the sides and then smooth the top over
Place 1 toasted hazelnut on top to prop the caramel decoration
Carefully peel the parchment or silicon mat away from a caramel decoration and place it on the torte, resting on the hazelnut so it stands up at an angle
Repeat the above process for the other 3 coffee choc tortes
Follow the same step when doing the 4 praline tortes but brush each sponge layer with Frangelico before spreading the frosting
Tip: I found the praline frosting a bit sticky so be careful not to tear the sponge layers
Refrigerate the cake until the icing is set, about 2 hours
Let slices come to room temperature for the best possible flavour before serving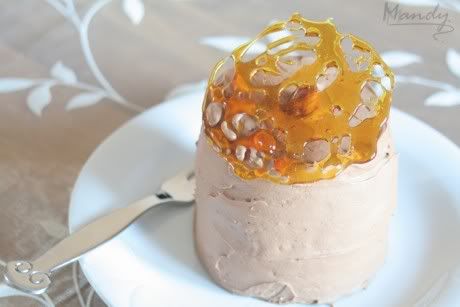 Thanks to this months' challenge hostesses! I learnt some new things, had fun and enjoyed eating the hard work :)
Other Tips:
This cake can be assembled over the course of a few days
I made the sponge on a Wednesday and interleaved them on parchment then wrapped them in plastic wrap and refrigerated
I made the buttercream on Thursday, stored in an airtight container and refrigerated
On Friday I took the buttercream out the fridge just till it lost its chill then beat it again and it was ready for spreading
We ended up eating them on Saturday and they tasted fantastic, this torte keeps well
The sponge layers can be frozen until ready to be used
While the sponge recipe is enough for 8 mini tortes, you'll probably have to double the buttercream recipe. I only made 4 tortes and there wasn't a lot of frosting left over
tagged
Buttercream Frosting,
Caramel,
Dobos Torte,
Praline
in
Daring Baker